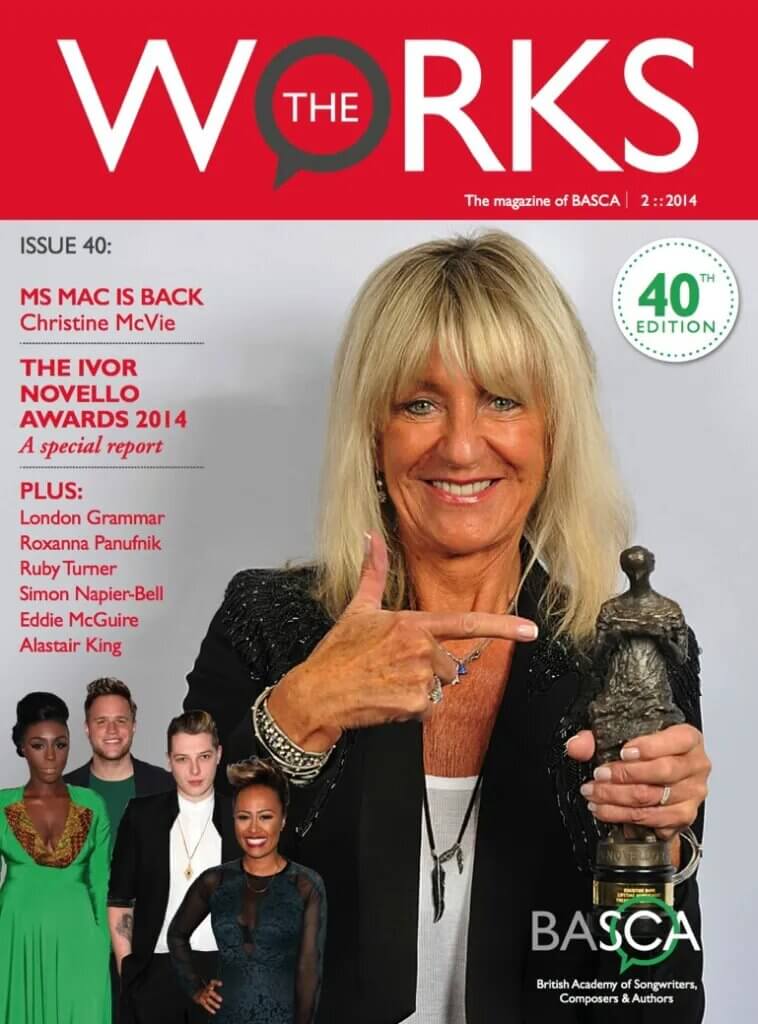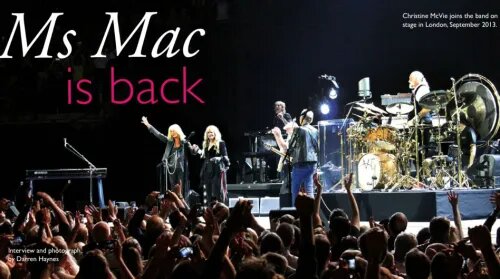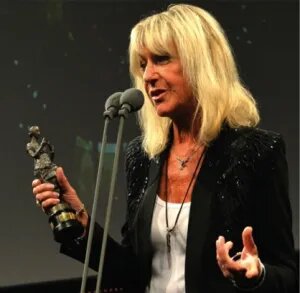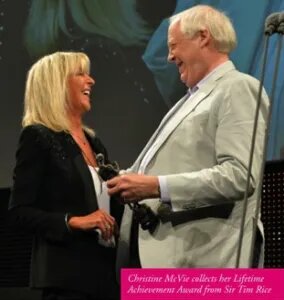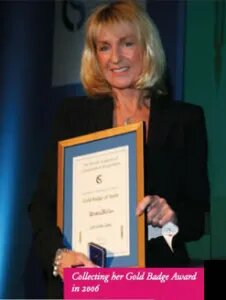 It's 5pm on the eve of the Ivor Novello Awards and Christine McVie is sat in her London home, excited and contemplating the forthcoming ceremony and the prospect of accepting her Lifetime Achievement Award.
"I'm thrilled to bits. It's a huge honour and I'm overwhelmed, really."
No stranger to awards, Christine can count Grammy Awards, a BRIT Award, an honorary doctorate degree in music from the University of Greenwich and even one of BASCA's Gold Badge Awards among her many trophies. But, this Ivor Novello Award is different.
"For me, this is really special because it's for me as an individual writer. The others have always been connected with Fleetwood Mac."
There's much more excitement on the horizon for Christine too, following her announcement that she is to rejoin the band.
It's been 15 years since she retired from Fleetwood Mac following the Dance Tour in 1998. She cited a fear of flying and wanting to move back to England where she'd bought a new property in Wickhamreaux, Kent as the public reasons for her departure.
"…and I wanted to just kind of get out of Los Angeles really. Although why I say that now after having just come back, I don't know, because I really enjoyed it out there."
She enjoyed her early retirement, for a while too…
"I really was fairly dormant for a few years. I just visualised myself as this, you know, retired lady in the country."
Overcoming her fear of flying was the first, albeit unconscious step in rejoining the very band that carries part of her former married – and stage surname.
"The guy that I'd gone to see regarding my flying problem said to me 'well, if you could go anywhere in the world, where would you want to go?' I said Hawaii, because Mick [Fleetwood] lives there and I have a lot of friends that live over there on an island called Maui. The psychotherapist said 'well… go and book a ticket, you don't have to get on the plane, just get yourself a ticket and see how it goes'.
Mick was coming in to London to promote the upcoming Fleetwood Mac tour and called, saying why don't we fly back to Maui together, so that's in essence what we did. It really was serendipity in the highest possible order."
Whilst on the island, Christine did a few gigs with Mick's little blues band and she started to get that Fleetwood Mac 'calling'.
"I just started to think, this is great and one thing led to another. I think I must've approached Mick at some point, saying, what do you think? How weird would it be? Do you think there's a possibility for me to come back into the band?"
Mick must've fallen off his drum riser with shock. Christine had been adamant that she'd served her time with the band.
"I said to Mick all those years ago, don't ever ask me to come back because you'll be upset by the answer and I was so convinced that I wouldn't."
While the fans might've felt the absence following her departure, someone else was missing her even more; her band mate, Stevie Nicks.
"She offered me five million dollars to come back and save her from 'this wasteland', I think she referred to it as. That was about six months ago."
"I said, what? Only five million? That's not very much."
Rejoining the band after so many years away, when they'd continued to enjoy massive success without her, could have reignited the Rumour-esque tensions and jealousies of old.
"Well, once the realisation was there that I would, in fact, come back, I was welcomed with such love and such open arms from the other band members that it was just an indisputable reality. It was a profound experience to go back into that relationship again. They are my musical friends. It was just a moment when I realised that I'd really turned my back on the thing that I most wanted in life and that was to be playing with them again.
I can't even tell you how wonderful it is, it's just fantastic. There's this chemistry.. there's this sort of enigma that surrounds the five of us and when we're all together, I don't know something happens, you know, it's a very, very profound thing."
New Fleetwood Mac material is coming along well and Christine is literally just back from Los Angeles where she spent ten weeks or so cutting new tracks.
"We've already cut about eight tracks. They truly are fresh as a daisy. They're just wonderful. They are a delicious taste, from hors d'ouvres to main course to pudding. It's a pot pourri of the stuff we've always been known for – a little bit of blues, a ballad, there's a country and western style song, there's funky stuff. I mean, it's incredibly diverse and the songs are just amazing."
Stevie has yet to contribute her songs to the new Mac album because she's currently working on her own solo album with Dave Stewart in Nashville.
"Stevie had to do some work on a contractual commitment so she wasn't able to be with us in the studio. I mean she and I have had some girls nights out and had a lot of fun."
Recording the new album continues from multiple locations.
"We can really in essence record anywhere as long as we've got the Pro-Tools, we can record in London, we can record it anywhere. We want to keep it fresh so it's not going to be sitting around for very long. Hopefully we'll get it all done and out by next Spring / early Summer."
For many years, Fleetwood Mac fans have wanted to hear a song co-written by Christine and Stevie or even a duet between the two grand dames. Unfortunately that wish may remain unfulfilled.
"Stevie and I have tried to co-write but I found it a difficult process with Stevie. Lindsey was always her interpreter in terms of the fact that he has obviously, you know, a very deep understanding of what her thoughts are in the songwriting department. I can't interpret her as well as he does. The truth of the matter is that we won't stop trying. I'm going to give it another go because she is such a great talent."
Their rock and roll lifestyle and regular touring schedules have not been conducive to having children of their own. Stevie often talks about her choice to sacrifice having a 'traditional family' for her art and refers to her songs as her 'children'. Christine has a similar maternal instinct toward her own songs.
"Yes, I'm very possessive about my songs. Occasionally, you get asked to write something for someone else and that causes 'events'. You end up writing something that you can't give away. Yeah… and whose baby is it really?"
The songwriting process is different for every songwriter. For some, it's a regimented 9 to 5 type job, for some it's a sporadic lighting bolt of inspiration and creativity.
"It's very hard to describe how to write a song. I mean everyone, I'm sure, says something different. And it changes over the course of time. I mean for me, it can be anything. I could just sit down with a pad and a pen and jot down ideas – even things that somebody might've said during the day. Sometimes you don't even know where this stuff is coming from and you tuck it away somewhere in a drawer and then you accumulate a whole bunch of ideas. They're not finished things at all, they're just ideas and then you might go to the piano one night and come up with a nice little hooky riffy kind of thing and link one with the another, then something starts to happen."
Christine has over 100 songs registered with the royal collection societies with almost two thirds of them being collaborations with the likes of ex-husband Eddy Quintela, former band mate Billy Burnette, Steve Winwood, nephew Dan Perfect and, of course, Lindsey Buckingham.
"For me, collaborating was difficult to begin with. Now I really, really, really love it. Co-writer for me these days is most likely Lindsey. He and I have struck up a massive musical bond which is just strikingly great and better than it's ever been."
The truth and sensitivity in her songwriting is due in no small part to her early love affair with the blues. There's simplicity and clarity in her songs but often behind these uplifting melodies lies a darker lyric.
She disagrees.
"A lot of people say that but I think it's pretty obvious to anyone who's listened to Fleetwood Mac, I do sing a lot about love. I sing a lot about unrequited love, I sing a lot about hope as well. I mean the Rumours album with all its despair and melodrama, practically all of the songs on that album of mine… 'Don't Stop', 'Songbird', 'You Making Loving Fun'… I mean there was nothing dirgy about those."
It's certainly true that her lyrics do not proffer the resentful or intentionally hurtful nature of Stevie's or Lindsey's words.
"Well, they have an issue, no question about it," she says. "They are each other's muses in my opinion and that's how they communicate. And it's a bizarre one and there is love and there is animosity at the same time."
During Christine's 'period of rest', Fleetwood Mac have released an album, 2003's Say You Will, a four-song digital download called 'Extended Play' and gone on three world tours.
Fans were treated – or teased – with what could be, when Christine briefly returned to the London stage in September 2013 to sing Don't Stop. The original Rumours line-up, together again and we were blown away.
According to Christine (with a caveat to stand corrected if she's wrong) the band is booked to add a European leg to their world tour. This will coincide with the release of the new album.
"I think we're doing four nights at The O2 around Spring time next years, you know, April, that kind of date. If I'm wrong on that, then I'm gonna get hung and quartered."
The setlist for the world tour is still under wraps ("because we don't know ourselves") but concert-goers should expect the major hits as well as a few of the deeper album cuts.
"I think that we're mostly going to concentrate on the obvious ones, on my major hits, sticking the odd left of centre one in now and again. It could be anything from 'Brown Eyes', it could be 'Oh Daddy', it could be even more obscure. I mean, never say never, there's going to be the odd songs that pops up and we say, oh, why don't we try that. We've got plenty of songs to choose from and so it's anyone's guess what we might pull out of the bag. I now have to get my skates on and practice the whole set including Stevie's songs and Lindsey's songs and my own."
Impossible to single out a favourite song, Christine diplomatically says that she loves "tonnes of Lindsey's. I love Stevie's songs. I love Sara, I love Silver Springs."
Will the classic McVie track and show-stopper 'Songbird' finish the set as in previous years? It's a favourite with Mick and John [McVie] who have both mentioned how they watch her sing 'Songbird' at the end of the gig and bawl like babies from the wings.
"I don't care about making them cry, that's OK. No, I'm kidding. Obviously Mick is looking at me saying you HAVE to do Songbird but we may move it to somewhere else in the set. We just want to have fun on this tour, you know, we really want to enjoy each other's music and each other. It really is a joyful reunion."
As our interview comes to a close, I ask a question submitted by a BASCA member: "If someone were to write a song about you, what would you want it to say or sound like?"
"That's curious… interesting question… I've never been asked that before. I want typical McVie style. I would want to know that I was loved and cherished and I would want it to have a groove."
And to quote one of her own song titles from the 1995 album 'Time', if she could do it 'All Over Again', would she?
"Well, I am – no holds barred, I've committed. I've committed lifetime commitment to Fleetwood Mac now. I've had 15 years hiatus and it's time to get back to work. No contracts needed, just eye balls and hugs."
Article and Images: Darren Haynes
The Works: The British Academy of Songwriters, Composers and Authors Magazine
June 2014